Minigames
A minigame appears as a reward for a successful exercise series. At the example on the left, a "catch the fish" minigame is active. The boats can be dragged toward the fishing spots. In this case, the fish can be caught in groups of five. In the example on the right, a "bat chase away" minigame is active. In this case, bats can be chased from the cave in groups of ten.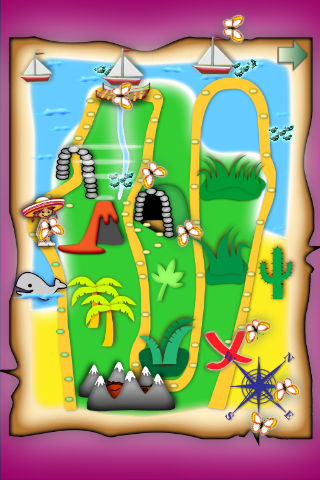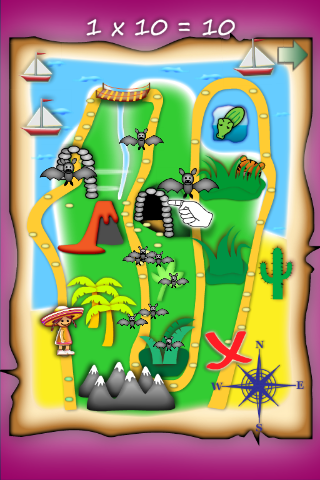 Purpose
The minigames fulfill several purposes:
A minigame allows the child to relax in between the exercise series.
The active minigame corresponds to the educational goal that matches the current phase in a campaign. It provides an alternative, practical context for the material that the child is learning. If the child is learning to count, the minigame is about learning to count. If the current phase involves addition or tables, the minigames are about groupwise addition. If the current phase involves subtraction, the minigames involve groupwise subtraction.
In a playful way, the minigames provide a fundament for the learning of the most important tables.
The minigames enhance the fun-factor and the immersiveness of the game.
Which
Next minigames are available:
Catching or liberating butterflies (from chewing gum)
Catching Fish
Spraying waterdrops from the Dolphin
Hunting Witches
Making the Volcano Erupt
Chasing Bats from the cave
Interactive Treasuremap
Succesfully concluding a minigame is rewarded in turn with several elements of the treasuremap becoming interactive (like the volcano, seastar/ufo, dragon, dolphin, bats and ships). If he likes, the child may play with them for a little while. As everything will run out (limited amount of dragonfire, volcano boulders, etc), boredom should trigger the child to proceed to the next exercise series.